Dominick Joseph Albano IV
Anne Marie & Dom's first child
Our first grandchild
Sarah and Dominick
10/25/2003

<!Begin Link to Flag Page--> Flags courtesy of ITA's Flags of All Countries used with permission. <!End Flag Link-->
Open heart surgery at 7 mo, a St. Rita HS graduate, and a graduate from Valparaiso U. - Basketball and baseball were favorite sports. He still finds time to play baseball and referee basketball games. Dominick is now a corporate financial analyst at Comcast Corp. Sarah is the daughter of Zoltan Nagy and Penny Smith. The family ancestry is found at Nagy Ancestors. After a temporary job in the business world, Sarah has entered a career teaching troubled children. She says,"They need me".
The couple began married life near Detroit but late in 2004 a job transfer brought them to Chicago-land. They lived with Grandpa Don until purchasing a home in Monee, Illinois.
In October of 2008, Sarah joined the Catholic Church and Dominick and Grandpa Don were her sponsors. They are now a single faith family.
On November 14, 2008 Sarah gave birth to Isabella Ann at 6 pounds, 4 ounces. Our first great-grandchild. These pictures celebrate the day of her birth.
The Proud Parents
"Bella"
Isabella Ann Albano
Just Arrived
Grandpa & Grandma Nagy
Zoltan & Penny
Grandma Albano
Anne Marie
Grandpa Albano
Dom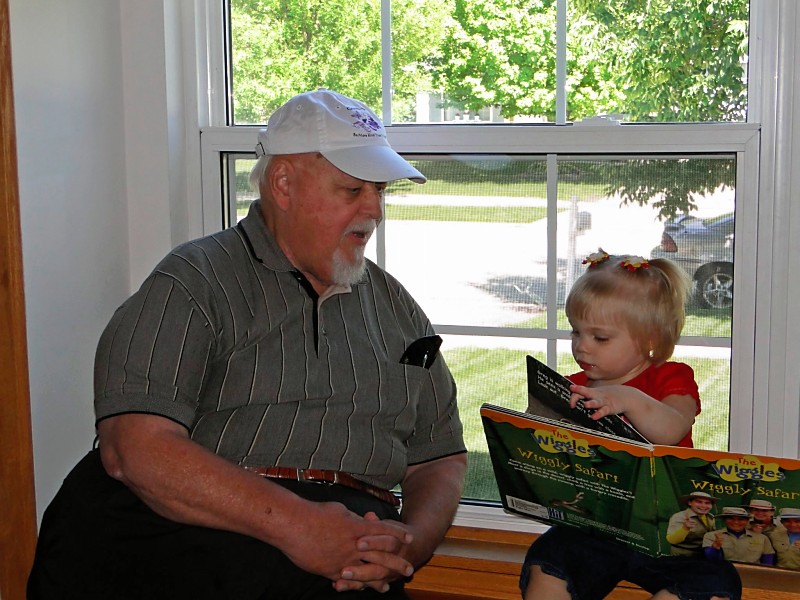 Great Grandpa with Bella - 2010
.
Anthony Albano
Anne Marie & Dom's second child
Our second grandchild

Pictured here with Joelle Zarzana.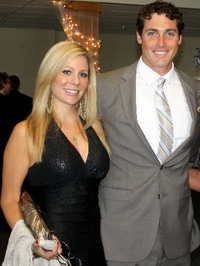 They are engaged ... watch for Fall of 2012 for a wedding.
In October of 2011 Anthony took a job with Southern Wine and Spirits. This is their published policy regarding employees:
"Our people are our most fundamental resource. Diversity in thoughts and actions are welcome. Individual differences are respected. We recognize that employee contributions through teamwork and empowerment are critical to the success of the Company. Our goal is to provide a positive environment for our employees that encourages creativity, recognizes innovation and rewards results."
It sounds like a great place to work and with this position Anthony seems well ensconced in the Napa Vally of California.
In 2010 and 2011 Anthony had been employed by iTrak, a training system for batters and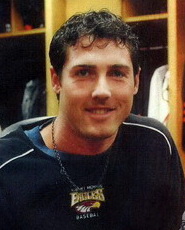 working with the The SF Giants in California. He has worked with the major league players as well as their farm teams. It was during this period that he met Joelle Zarzana. They are pictured in July of 2011 ar the left. At this point in their lives it is safe to say that they are a couple.
From 2007 until 2009 Anthony played professional baseball in the Frontier League serving on the roster of three clubs, the Windy City ThunderBolts, the River City Rascals, and the Midwest Sliders. He has a career batting average of .268 with 14 home runs and 101 RBI. In 2008 Anthony hit .258 with eight home runs and 52 RBI. He also finished third in the league with 29 doubles.
In the fall of 2006 he had the position of assistant coach at Robert Morris College to assist in their 2006 fall and 2007 Spring seasons.
In 2006 Anthony graduated from Florida Atlantic University. Anthony Graduated from Bro. Rice High School where he excelled on the Baseball team. He was drafted by the Minnesota Twins but chose to accept a Baseball scholarship to Evansville University in Indiana. After two years there, he received his release and transferred to Florida Atlantic University in Boca Raton, Florida. In 04-05 he was put on the disabled list due to a shoulder injury. He has played Summer baseball with various teams including two seasons with the Quincy Gems.