Shepard Packard (b1818)
We do not at this time know the parents of Shepard Packard, born in Easton, Ma in about 1818. Therefore the line to Samuel and Elizabeth who are believed to be the first American Packard family can not be determined.
About Samuel & Elizabeth:
Samuel Packard (1612-1684) married Elizabeth (Family unknown) (1614 - 1694) in about 1635 at Stonham, Aspal Parish, Suffolk, England. With their two year old daughter Mary they emigrated to Plymouth Massachusetts Colony in 1638 on the ship Diligent from Ipswich, England, where, according to an article by Karle S. Packard, they were the parents of 13 additional children. 11 were born in Hingham, Mass. and 2 in Weymouth, Mass. before they relocated to Bridgewater, Mass.
We have a copy of military records which tells us Shepard was born in Easton, MA. He listed his occupation as Foundry worker, most likely employed at the Ames shovel factory located in Easton, Ma. He was 22 years old when he enlisted in the 1st US infantry, 17 Co. in New York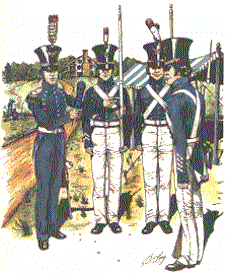 under Captain Bainbridge in 1839. He served at Ft Winnebago in what is now Wisconsin Their mission was to keep the peace with the Indians of the area after the recently negotiated treaty. He was discharged there on the 29th of April in 1845. We also know from these same records that Shepard had blue eyes, brown hair, dark complexion and was 5'-5" tall. I invite you to read "Early Times at Ft Winnebago" The typical dress uniform for the US Infantry of the period is shown here.
Shepard Packard married Martha Clay of New Jersey (b 1829) Shepard and Martha were married in Vermillion, Ohio by J. C. Angel, Minister of God on 26 Jun 1847. Shepard was employed as a mold maker for iron castings. They were the parents of eight children; Charles Thomas, Henry Shepard, Martha, Melvin, John W, Emily, Minnie, and Edward.