James Harvey Copeland
(1835 - 1928)
James Harvey Copeland was one of five children of Alden Parcus Copeland and Rachel Flemming.
He was born in Pa. on March 14, 1835. In 1860 he was living with his mother and her second husband James Fogle in Harmony Township, Venango County, PA and working as a laborer.
J. H. married Lyde Rohrer and the couple gave birth to a daughter in 1862. In 1863 they had moved to Meadville, PA. In a letter* Their daughter was described as being "as thick as she is long, but is real pretty"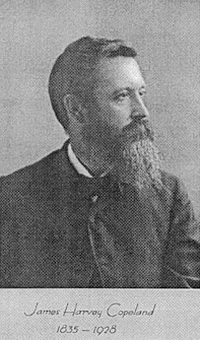 James was a child when photography was first developed and as he grew up it attracted his interest. As an adult he would be one of the pioneers of photography when he opened a studio in Meadville, Pa. According to a February 1864 letter* of Hannah Rohrer to Coston Monks: "Lyde has all she can do these times and more, too. She gets up and gets breakfast, washes the dishes, and goes to the Gallery, prints, puts plates in the bath, picks up the pictures etc., works until night, and then has to come home, get supper, etc. They took $71 worth of pictures last week, so you can judge how busy they are."
* The Monks-Rohrer Letters
When oil was discovered on the land near his uncle's farm, the town of Pithole sprang up almost overnight. J. H. Copeland opened the "Sunbeam Gallery" at 21 First Street Pithole, Pa. in August, 1865 changing the name of his firm to Copeland and Fleming in September, 1866. Possibly the "Fleming" was William Fleming , who was Rachel (Fleming) Copeland's brother. Copeland advertised "photographic views including Pithole City, Prather City, Balltown, and most of the prominent wells, constantly on hand." In addition to the studio, James also was the proprietor of a boarding house.
In the summer of 1867 they relocated from Pithole to Pleasantville, PA, where James continued in the field of photography with a studio on Main Street. Lyde died prior to 1870 and there was a marriage to Emma Botsford, born in 1838. Emma died about 1873 without any children. The name Eliza Jane Copeland has been found on a deed for some property purchased in August of 1865. She is identified as J. H. Copeland's wife but no record of a marriage is known to exist. She is a mystery!
On November 15, 1874 James H. married Alice Harriet Bingham, born Feb 4, 1854. Their children were Harvey Louis, Isabell, Alden Bingham and Earnest Smith Copeland. The family had moved to the Cleveland area where all of their children were born. He had a studio at 225 Superior Street in Cleveland starting in 1870 and from 1889 to 1909 he had a studio in Linwood Park. There were several other studio locations in Cleveland, sometimes in partnership with other photographers.
James Harvey and Alice completed their lives in Amherst, Ohio. They were largely responsible for the raising of their grandson Alden J Copeland after his mother's early death. J. H. died on March 14, 1928 and Alice in February of 1929