Alice Harriet Bingham
(1854 - 1929)
Alice Harriet Bingham was one of six children of Dewitt Clinton Bingham and Harriet E Carpenter.
She was born in Mt. Gilead, Ohio on June 6, 1854.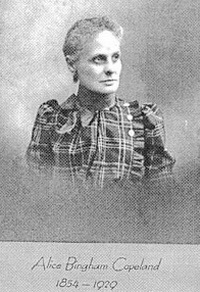 On November 15, 1874 Alice married James Harvey Copeland, a widower with one child, a daughter, then 12 years old. Alice and James were the parents of Harvey Louis, Isabell, Alden Bingham and Earnest Smith Copeland. The family lived in the Cleveland area where all of their children were born. He had a studio at 225 Superior Street in Cleveland starting in 1870 and from 1889 to 1909 he had a studio in Linwood Park. There were several other studio locations in Cleveland, sometimes in partnership with other photographers.
James Harvey and Alice completed their lives in Amherst, Ohio. They were largely responsible for the raising of their grandson Alden J Copeland after his mother's early death. J. H. died on March 14, 1928 and Alice in February of 1929